Blog
Defining your journey to the cloud [and beyond]
Microsoft Azure provides a secure cloud platform, well-suited to the IT environments of large enterprises, with strict data protection requirements. When planning your migration, it is essential to consider the main advantages of the four key migration strategies, namely, Rehost, Refactor, Rearchitect, and Rebuild. In this post, you will discover a simplified checklist to accelerate your Azure migration strategy and explore how Tech Unicorn can facilitate the entire cloud migration process for your enterprise.
Steps in the cloud migration process
Cloud migration is a continual process, involving organizational change, spanning multiple layers, and the incorporation of new technologies. A holistic approach will guide you during the transition, while ensuring that your organization can identify all potential benefits, such as flexibility, resilience, and expansion.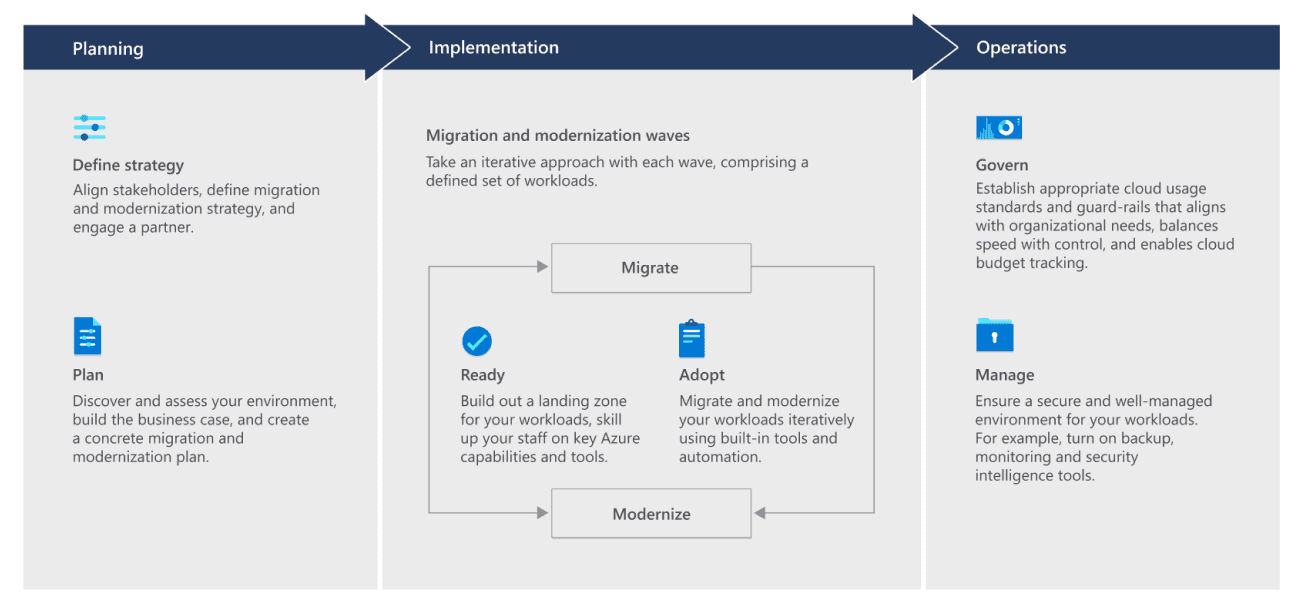 Define your modernization strategy
Analyse your motivations & understand your goals Define exactly why you are migrating. Document the business outcomes that you hope to achieve, as well as your motivations – like, reducing costs, enhancing productivity, or designing for future expansion.
Align with stakeholders Facilitate a seamless migration process that meets all organizational goals by discussing the scope of work with all relevant stakeholders. Create a center of excellence with a cross-functional team, including IT specialists, finance experts, and entrepreneurs.
Select a cloud migration partner Augment your cloud skillset while reducing risk, as you migrate current projects and workloads. Team up with an experienced service provider that offers continual support with each phase of the transition journey – from the initial planning stage, right through the final implementation.
Design the next move
Assess your database & infrastructure Obtain insights into your dependencies, using automated cloud migration tools. Analyse your infrastructure and assess your on-premise environments. This includes risk assessments, workload-level cost estimates, and performance metrics.
Make a business case for migration Evaluate the possible cost-savings of migrating to Azure by comparing your total cost of ownership (TCO) for Azure, with that of a comparable on-premises deployment.
Embrace an inclusive plan Account for workload priorities, deadlines, resources, and funding. Segment your overall plan into migration and modernization projects - each with a group of related workloads.