Blog
Transforming the Customer Journey
Banks can enhance their customer journeys by embracing digital transformation, with a consumer-centric approach. By implementing a comprehensive front-to-back approach, focused on customer value streams, banks can optimize their strategic choices.
In order to remain at the forefront of their industry, financial institutions are required to fully embrace digital transformation. However, research displays that six out of ten financial services companies fail to achieve their transformation goals. Most companies do have all six requisite digital success factors that are required to achieve transformation goals. In addition, financial institutions do not base their transformation programs on the needs of their consumers.
For complete transformation, banks should conduct a consumer audit trail and revisit each touchpoint in the user journey. This should be coupled with an analysis of all the actions taken to fulfill a need, such as applying for a loan or making an online payment. The resulting data should be utilized to redesign underlying operating models, to ensure that they are aligned with the customer value stream.
Banks have ample reasons to fully embrace the transformation process, as customers are increasingly relying on digital channels to optimize their daily lives.
A consumer value stream approach encompasses all the actions a bank needs to undertake – including all front-end activities, as well as back-end actions. This allows the bank to identify opportunities for improvement and enhancement.
Dissecting the customer journey
The consumer journey involves the series of interactions with the enterprise. It begins when the customer first identifies a need, such as making a query or resolving a service issue and is completed when the need is fulfilled. It includes numerous decision-making points that customers encounter with the financial institution. Each interaction prompts a reaction across multiple points in the organization, which impacts both the customer and the employee experience. This chain of activity extends across the operating model, including functions that are not visible to customers, such as risk compliance and change management. (See image below)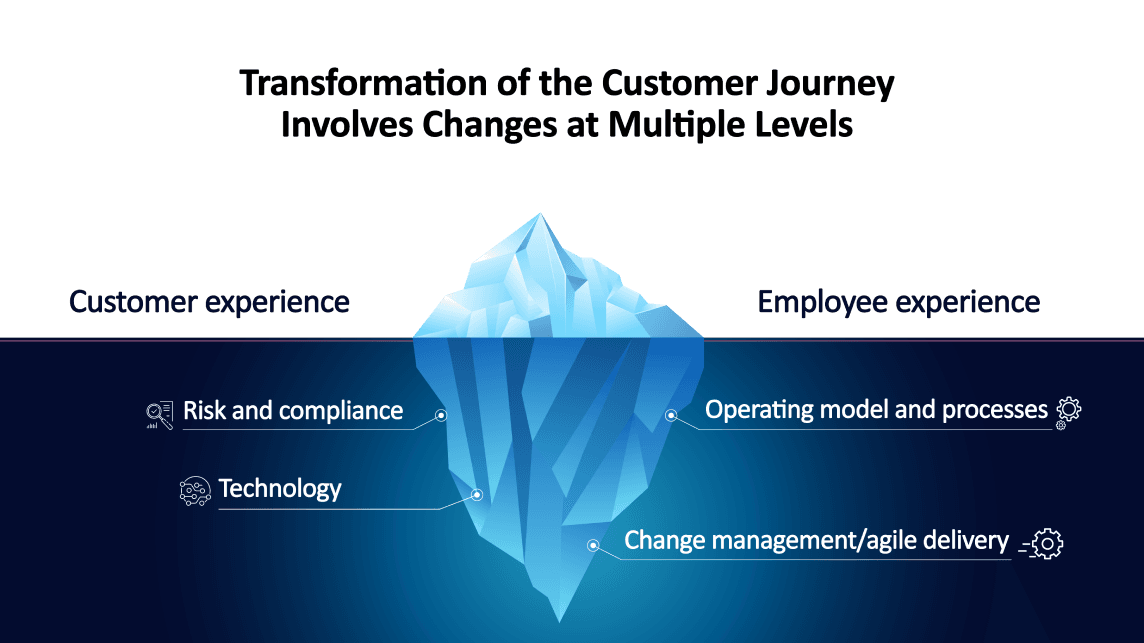 In each major line of business, banks typically manage around 50 customer journeys that can be grouped into five broader actions, including:
Assisting with the opening of a new bank account
Assisting with the process of borrowing money
Promoting the customers' financial well-being
Assisting the customer with a payment or transaction
Resolving the customers' query or issues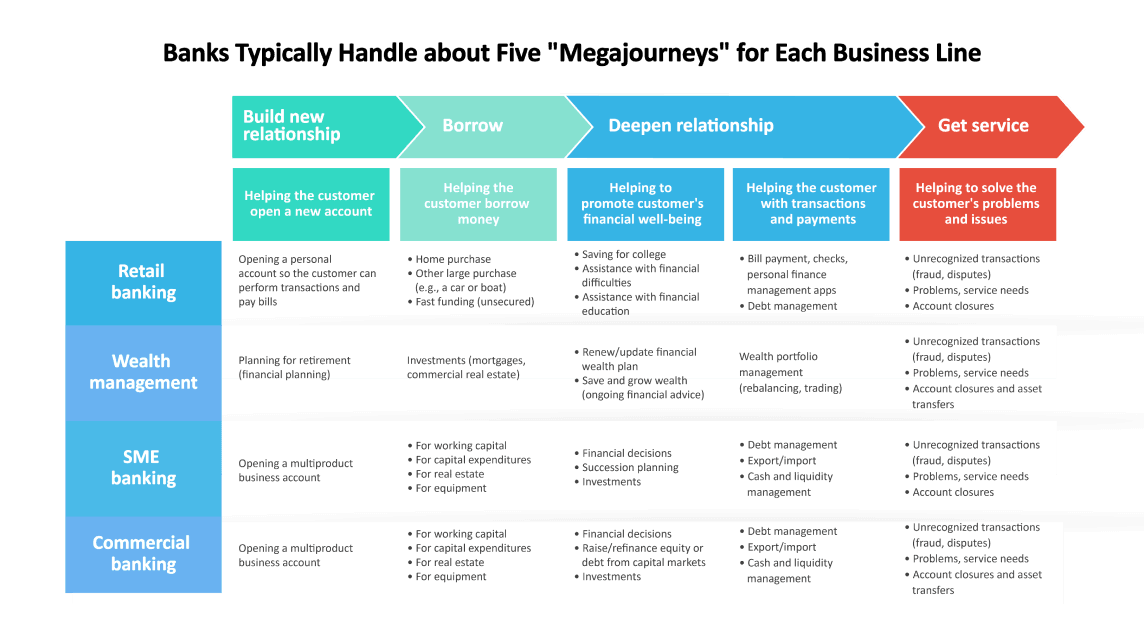 The future of banking is centered around the entire customer experience. Successful banks organize their underlying operations according to the unique needs of their customers, reflecting their perspectives in their services. They also leverage the resulting transformation of the bank from a product focus to a consumer-centric focus that motivates their employees to fulfil more than only the basic requirements.